Quite simply, a robot dog – any type of robot dog – is a lot of fun! Kids love them, adults love them, and it's very possible that your real dogs will like them, perhaps a bit too much!
After all, it's coming up to Christmas and you're likely looking for gifts for people, gifts that are a bit different, fun and frivolous, and not too expensive. Be honest – you think a robot dog fits all of those criteria, don't you? We do, so we checked out a collection of robot dogs – there are plenty to choose from right now – that we think are worth looking at, and that would make great gifts.
How do they work? It's simple: they are battery powered – some are rechargeable, others not – and they perform their own specific set of tricks. Some respond to voice commands, others to claps, and some just get on with their job of being amusing! No more hanging about, here's our selection of the best robot dogs around.
The Top Robot Dogs
1. Jingba Plush Interactive Puppy

First on our list is a robot dog that is designed for kids. This one has a plush coat – it actually looks like a little puppy, rather than a robot as you might imagine – and is about 12" in length, so a decent size. It is made from – the makers claim – safe, toxin-free, environmentally friendly materials and 'the baby could play with it' is the main claim. It's cute, it's simple, and it comes in a nice colourful box at a decent price of not much more than £20.
What can it do? It can clap its hands, bow, do handstands and push-ups, and makes a noise like a puppy when you touch it. This one is designed to react to hand claps, and the result is random. Make a note that it doesn't walk. You need to buy 4 x AA batteries – this one is not rechargeable – and it is not suitable for kids under 3. Many customers appreciate its 8 moves and various songs, but a few have complaints about quality and it failing to work.
Key Features:
Plus toy
4 years and above
8 movements
Battery powered
Sensible price
Batteries not included
2. Wow Wee 3819 Robot Dog Toy

This little robot dog – it's more like a robot than the above, so probably resembles what you are thinking of is a touch more sophisticated than our first one. For a start, it has a name – Chippies – but you can call it what you want. This one responds to you and also learns. It's more interactive, and has three modes you can select, and is effectively trainable. It is very clever, and includes chips (hence the name) for allowing it to see, speak and listen, and it does so with ease.
This one is a great teaching and fun aid for kids, one that goes a step further  than some. You need to buy the batteries as usual, it can dance, nuzzle its nose into you and more, and it's very versatile. However, you need to fork out £50 for this one. Is this expensive? We don't think it is compared to the price of other items you may be buying as a gift, but the price was pretty much the sole complaint we found about this one, so it's worth a look.
Key Features:
Proper robot
Interactive and learns
Dances, nuzzles and more
Need to buy batteries
Not cheap at around £50
3. Little Live Pets My Dream Puppy

Another plush design of robot dog, and we like to think of this type as toys for kids only. The one above could conceivably provide a lot of amusement for adults, but this is far more basic. In fact, we'd go as far as saying this is an ideal toy for a little girl, but be aware it's suitable for ages 4+. It has nice movements – including breathing – and the child can enact feeding it with a bottle, plus it is soft to the touch and made with safe materials as we would expect one of these to be.
This one also needs 4 x AA batteries which are supplied for once, and comes with six possible play modes and makes more than 35 'realistic' puppy sounds for added authenticity. It also closes its eyes and is very cute indeed. We notices a lot of customers giving this toy great reviews – their child loving it – but be aware that the instructions are rather difficult to understand. Also, many complaints that the dog soon stops working are not reassuring, and at a price in the region of £60, we'd expect better.
Key Features:
Plush puppy toy
6 modes, 35 noises
Batteries supplied
Complaints about poor quality should be noted
Very high price in comparison
4. Electric Pet Dog Interactive Puppy

This plastic toy dog is a cheaper alternative than the above – it's in the £20 range – but it's very plastic! Nevertheless, we have no doubt kids will find it cute, and it is interesting to look at. Finished in pink and white, it's clearly aimed at girls, and it comes with a  variety of functions. This one can walk, it barks, it makes 'fun sounds' and from what we can gather, its ears move. For the record, the makers call it Helen, if that appeals.
This one has a bump and go feature, so if it hits something it will turn and keep going, and it has various functions including singing and sleeping that are activated with touch. It comes with 3 x AA batteries supplied, and is a perfectly decent gift for a little girl. While customer reviews are generally very much in favour of this toy – with value for money mentioned more than a couple of times – there are some complaints that it doesn't work, or that the batteries run out quickly.
Key Features:
Plastic dog
Attractive colouring for girls
Barks, walks, makes sounds and nods
Not a bad price
Batteries included
Concerns about general quality and poor battery life
5. Animagic Woofles My Playful Puppy

Another of the plush toy models, this one is very cute and comes in nice packaging, Woofles is a cute puppy toy that will start making noises if you stroke his head, and has a bone toy that he also responds to. He's nicely made and a decent price at somewhere between £20 and £30, and he walks alongside the child barking or making other noises, and also performs a variety of other movements when commanded.
This toy is also recommended only for children of more than 3 years, which is pretty much the standard with toys such as this, and comes with 3 x AA batteries supplied so is ready to go when you get him. Among this type of robot dog, we like this one as it is very cute, and it meets with very positive customer testimony overall. The only major complaint we saw was one regarding damaged packaging.
Key Features:
Cute toy
Batteries included
Walks and makes noises
Bone toy included
Not a bad price
Few complaints
6. Fur-Real Ricky Plush Puppy Toy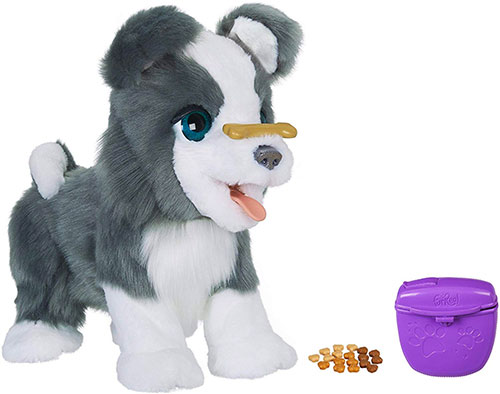 This is a nice toy with many fine features, and a very cute dog, but it does come at a high price of around £50 so you need to keep that in mind. However, this is a very interactive robot dog – it can respond to over 100 sound and motion combinations including licking, shaking his head, and making a variety of puppy noises. This one is grey and white, so will appeal to both boys and girls, and is nicely made with attractive packaging and some toy accessories.
Once again, this one is not for kids of 3-years or under, and it requires batteries that you have to buy. However, he can do tricks – he'll raise a paw and even perform flips – and is far more versatile than many others on this list. Also, he eats treats and poops them out – a favourite with any kid! Is he worth the money? This one also meets with some very favourable reviews from buyers – in fact, the main complaint seems to be from people who bought it and then it was reduced in price – and we reckon even at the price it's worth it for the shortlist.
Key Features:
Many tricks and functions
Grey and white unisex design
Nicely made toy
100 sound and motion combinations
Expensive
7. Wishtime Remote Control Robot Toy

This is a genuine robot dog, rather than simply a fluffy toy that moves, and is one that comes with a  great range of features and functions. First, it looks futuristic – and it looks like a robot as you'd imagine one – and it also does some pretty cool things. Also, it's USB rechargeable, which is unique on this list. This one comes with a remote control that can instruct the dog from as many as 35 feet away, and it also comes with some educational features, including a number and letter teaching system (it's suitable for 2 years and older).
It can dance and sing, is multilingual (to the tune of 26 languages!) and can even fart on command! This is a pretty advanced robot toy that will entertain the kids, and that can also be played with by all the family. Is it worth the money? Well, you get change from £50 for this one, and many more features than you do with most of the others on the list, and gets entirely positive reviews from buyers, so we can only say yes, this is definitely one for the shortlist.
Key Features:
Proper robot dog
Rechargeable USB
Many functions, dances, sings and farts!
2 years and older
No customer complaints
Not a bad price
That's our list of robot dogs complete, so which is for you? Before we go on to give you our verdict, a little more about what you need to look for.
What to Consider
the decision comes down to this: do you want a fluffy toy that dances and wags its tail, that your little girl will enjoy? Or do you want a proper robot dog, that has many functions, that is educational and that all the family can have fun and learn with? If the former, then you have the pick of a few – and we reckon the Fur-Real Ricky Plush Puppy Toy is the pick of the bunch being the most versatile and outwardly unisex of them all, even if it is the most expensive of its kind.
But, there's one here that we would buy over all the rest, and here it is!
Our Choice
Without a doubt our choice would be the Wishtime Remote Control Robot Toy,  as it has unrivalled functions and features, is sensibly priced, and also comes with educational functions making it a toy that all the family can enjoy. And, most important of all, it farts!
Whichever robot dog you choose you will have fun, so make a note of one of these as a Christmas gift, and you can't go wrong!