For some people owning a proper brick, garage is just never possible. This could be due to the lack of space at the side of their house or garden or maybe due to planning regulations.
Well, fear not, there is a solution and that is the pop-up garage. These will end up costing you a lot less than a normal garage and might actually end up being a better option in the long run. You really need to have a look at some of the best options on the market before you buy yours which is why we have put together the top 10 out there.
The best Portable Garages In The UK
1. FOXHUNTER Heavy Duty Waterproof 3m x 6m Carport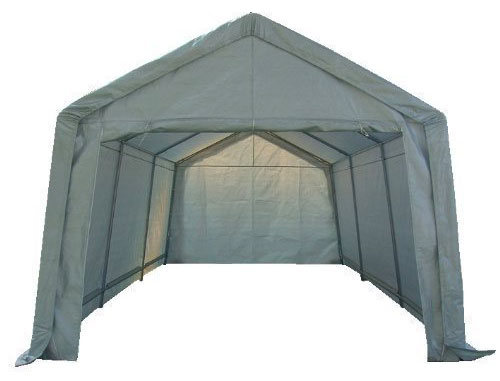 This temporary garage has a ground coverage of 18 square metres and is fully waterproof with a 180g polyethylene cover. It has a removal front door and the back door is also removable. The doors can also be rolled up as well. This is great for if its a hot day when you are working on your car so that you can get a bit of air flowing through.
The poles are made from galvanized high-quality steel which are 38mm in diameter and 0.8mm thick. This means that they are rot-resistant and will last for a while.
While doing our research we had a look to see what customers thought about this. Generally, they are were pretty good with customers saying how easy it was to put up. The poles fit together very easily but it will require more than 1 person to erect it.
We found pictures of cars inside it and the people had plenty of room to move around.
2. Garden Gear Portable Shed

We have included this one near the end of our list as its a slightly cheaper option than some of the others on the list. It is not a car garage as such but its available in 3 sizes and we think the 8ft by 8ft model might suit some people who are only working on part of the car like the engine and do not have the size for a full-size garage.
It would also suit those who want to work on a motorbike perfectly and it could also be somewhere to store your motorbike as well.
The material is 200g polyethene which is PE-coated on both sides, rot-resistant and tear-resistant. It certainly is a well-built piece of kit.
During our research, we found that people were very happy with this product. Most people liked how sturdy it was.
One person even lost the instructions but still said it was really easy to erect. Even though its easy to put up some people said it can take up to 2 hours but I guess once it's up toou likely won't be moving it for a while.
One thing this doesn't have is any windows which is a slight let down and you might want to invest in a light if you are doing paintwork that needs extra care.
3.  Costway 3 x 6-meter car port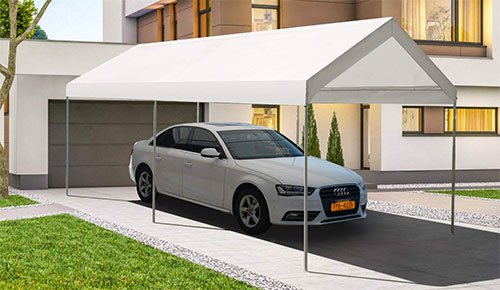 While this one is not a fully covered garage we still really like it. It keeps the car protected by some of the elements but also gives you a nice light open space to work with. Some people might not even use this to work on their car, you might just want this to put your car under each day to protect it from the elements.
Its a big car port and measures 6m x 3m x 2.7m meaning it can easily fit a car, 4×4 or small truck under it with ease.
The cover is a waterproof polyethylene which will help protect the car from the rain.
We like this one for its versatility as when its not being used as a car port it can be used as a gazebo for that summer garden party that your wife does every year.
When doing out research we had a look to see what people thought of this product. People were very happy and said that it was easy to put up and does the job nicely for a cheap shelter. The top tip was to put the roof together and put the canvas on before putting the legs on. With it being so tall we can see why.
4. Quictent 3 x 6m Car Port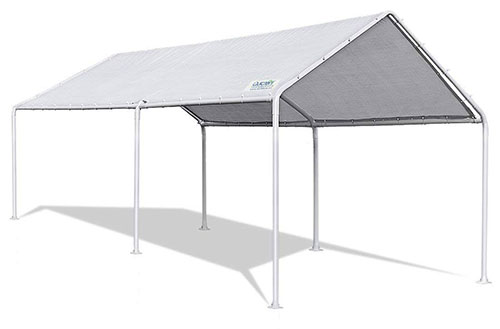 This one is similar to the one above but to us it does look slightly better in terms of quality but it is a bit more expensive when we checked the price.
It comes with 38mm steel powder coated frame poles which is pretty standard for most on this list and the cover is made from polyetheylene which is our favoured material cover.
This one has different legs compared to some. The legs have a flat base which have holes in for you to pin peg it into the floor. This means there are no guide ropes with it.
When doing our research peopled talked favourbly of this item. One customer said he had it up for over a year and it ha taken a battering from the elements and had survived just fine.
One pro tip we found was that you should put together the roof first, put the cover on and then put the legs on otherwise the roof will be too tall for you to reach up.
5. Toolport heavy duty car port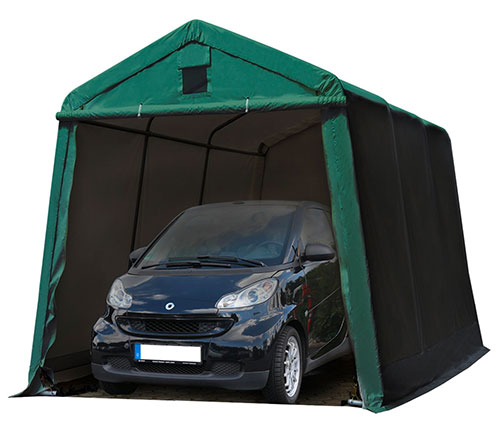 Advertised as a heavy duty car port this shelter comes in 3 different sizes (2.4m x 3.6m / 3.3m x 3.8m / 3.3m x 6.2m / 3.3m x 7.7m) and in 2 colours – green and grey.
Unlike most of the others on the list this ones made from 500g PVC which claims to be 100% UV resistant and waterproof.
The legs have a flat base with holes in meaning that the pegs go straight through the legs. It also comes with some guide ropes which you can use as well to make sure it is extra secure.
This one does not have any windows meaning it might be a bit dark inside. We recommend picking the grey one if you are working on a car as this did look a lot lighter inside when compared to the green one which looked dark inside.
We had a look at some reviews by customers who mention that if you are working on a car you should get the 3.3m by 6.2m or the 3.3m x 7.7m as the other sizes will probably be a bit too small
6. Rowlinson Shelter Logic (comes in 3 sizes)

Rowlinson are definitely the most recognised brand on our list of the best portable car garages. You will find these guys stocked in most of your local garden centres. That being said, it will cost you more for being a bigger brand.
This shelter comes with a rachet to make sure the cover is really tight to the frame. Looking at the pictures it really does look like its a tight fit to the steel poles.
This shelter needs more than 1 person to erect and is likey going to take 3 people about 2 hours to put it up but it can be a bit tricky to put together. Make sure its a nice summers day, crack open the beers and get a BBQ ready to reward your mates after all their hard work helping you put it up.
One downside of this product is that it lack vents. Users complained that the condensation could get quite bad and one customer went as far as installing his own vents at the front and back to help solve this issue.
7.  Dancover Portable Garage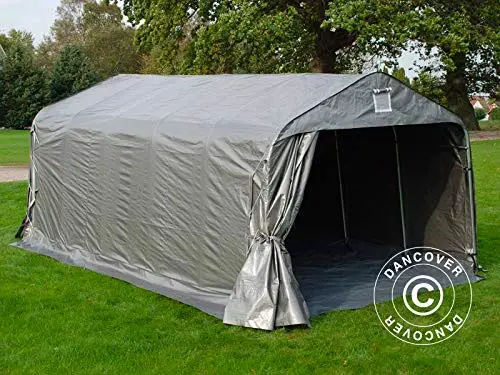 Dancover are a UK company that I had not heard of before but it looks like they produce some really high-quality pieces of kit.
This carport is a bit more expensive than some on the list but it depends if you want to go for a UK brand over a more generic company that you have not heard of before.
The material is 300g polyethylene and comes with galvanised steel tubes which should not rust.
They have a few different sizes but the one we are covering is one of the larger ones at 3.6m x 6m. This one is slightly wider than most on the list and it will easily fit a big car in there. In the image, it shows a Toyota Aygo inside with tons of room to move around so we imagine it could fit an estate car in there.
We would recommend checking out some more of the Dancover items as they really do some pretty amazing portable garages. You would also be able to order spare parts from them directly. My parents have a gazebo (not from Dancover) and they usually have to order a spare part through general wear and tear every few years.
8. Rowlinson Shelterlogic peak style shelter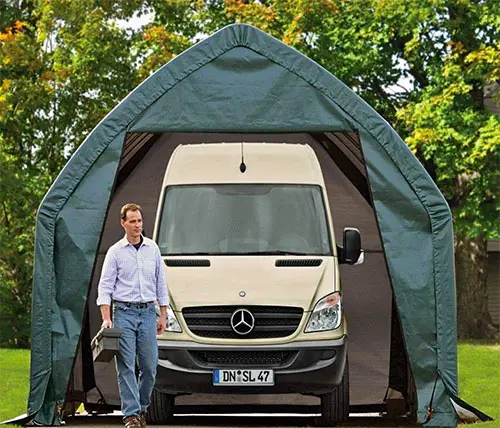 This is our second one on the list from Rowlinson. It has been included as its slightly different to the rest.
This one has a peaked roof which means the entrance is a lot taller which makes it more suitable for taller vehicles. The image shows a picture of a Mercedes sprinter van inside it which means it could be perfect for those of you are restoring a campervan OR need to work on the roof of a car and need that bit more headroom.
Like most of the others, the material is polyetheylene and water-resistant.
Which one of these is the best portable garage?
Overall Choice
If you have a big budget then we would definitely recommend number 8 the Dancover portable garage. It's well built has vents and just looks really. We also like the fact its a UK company but like said it will cost you more.
Budget Choice
Something more temporary and cheaper would be number 3 the costway carport. It is simple, cheap and does the job.
Buyers Guide – Things you should consider before buying
So you have decided that a portable garage is definitely something you want, but there are many considerations you need to think about before buying one.
Ease of setup
Size
This is by far the most important consideration. Not only does it need to be small enough to fit on your driveway or garden but you need to make sure it's big enough to get your car in. This might be a struggle on some houses in the UK as we only have small driveways, especially on new-build estates. We recommend measuring your driveway, and then measuring again just to be sure!
As well as measuring your drive you also have to measure your car. Then you need to stand next to the car as if you would be working on it or moving around and have someone measure the width of the car with you next to it. The last thing you want is to have the car fit inside but then have no room to be able to work on it.
Price
This affects everyone. Most on this list are pretty affordable. Just keep telling the wife that it's less than a proper garage! For £300 you will be able to get something decent.
Stability
You need to think about how you will hold it down to stop it from blowing away. If you only have concrete on your front and nowhere to peg it down then how are you going to hold it in place? Take a look at Gazeboweights.com for ways to keep your garage anchored down
Weather
We have already covered this but depending on where you live in the UK will decide how much rainfall you get. If you live in the Lake District where it always rains then you want to look at getting a garage with a steeper roof pitch so that the rain falls over it easily. If you are somewhere nearer the coast where it's windy then you want to get one that will be held down easily.
Materials
The frame – If we have to pick one, we would stay away from wooden framed ones. None on this list have wood, but these might not last as long and could become damaged by moisture.
The cover – The ones on our list are made from polyethelene or polyester. While polyester is slightly cheaper we would recommend you go with polyethylene as it will help protect it better against UV rays.
What are the benefits of getting a portable garage?
There are 3 main benefits and uses for deciding to buy a portable garage which we will discuss below.
Lack of room for a permanent garage
The main reason might be that you can't get planning permission to build a proper brick garage. Therefore a portable pop up garage would suit you perfectly as it can be put up easily and not need any permission.
You need room to work on your car
This ties in with the reason above. If you are restoring or repairing a car you may need to keep it undercover to help protect the car during this time. If it is going to be a 2-day job to repair the roof of the car and rain is forecast then this will solve that issue. You may also be painting your car and now want the elements to get to it.
It can be multi-use
Some of these garages can be used as gazebo's or shelters for other reasons. If the wife is moaning at you about spending so much on the shelter you can tell her about how it can be used for that big garden party that she wants to host in the summer as well.
UV protection
I never realised until I went to sell my 5-year-old red car that the paint had faded a lot. The car dealer said "Wow that's faded hasn't it" but to me, it still looked like a shiny new red car. After he said that I noticed that most red cars about my age were all shiny. This was most likely because they had been kept in a garage or under a carport.
Weather protection
This is linked in with UV protection above, except this time we are thinking about rain, sleet and snow. These will also damage your car in the long term. With the UK experiencing more random weather than ever we think you need one if you have a precious car or bike.
The price
Compared to a normal garage these are so much cheaper and easier. Most on this list are a few hundred pounds and a proper garage would cost thousands.
Security
Ok, I know a thief could enter a popup garage really easily if they wanted to but at least this keeps stuff covered up and means that any thieves scouting the neighbourhood won't see your car and other stuff out on view.