The Dovetail Jig
If you are into carpentry or DIY, there are many different devices you can buy cheaply that help you create professional level results. You probably have a few of them in your kit right now, but do you have a dovetail jig? If not, you need one! You know those lovely, neat dovetail joints that you see on professional-standard furniture and other wooden items? They are usually created using a dovetail jig, so how does it work, and what can it do?
To keep it simple as there are many different designs, the dovetail jig is a device that keeps timber in a vertical position so that you can use a router to create the dovetail. It does so by way of using a template. They can handle different sizes and angles, and come in forms that are designed for both professional and home use.
The dovetail jig may take a little getting used to if you have not used one before – there are many videos on the internet showing these devices in use – and you will need a router with the appropriate bits if you are going to use one. However, we reckon that once you start to use one of these, you will wonder how you ever got by before.
So, if you want to give your wooden boxes, furniture and other items you make the perfect, close-fitting dovetail joint for the ideal finish, here's our selection of 10 of the best on the market right now.
The Top 10
Trend CDJ300 Craft

The first one we have picked out for you is this very typical model, the trend CDJ300 craft. Now, we will warn you that as with all items that are designed for a specific purpose there will be similarities between makes and models, so expect some repetition of facts in these descriptions. As the name implies, this one is designed for craft work – especially smaller items such as jewellery boxes and similar – and can cut timber up to 300mm in width. It's thickness range is between 12mm and 25mm.
It has fixed 1/2inch dovetails that make it easy to set up and use, and is equipped with full length clamps for secure fixing to the workbench. Made from strong steel by a company with 50 years of experience, it is a good all-round device. Customer reviews are favourable, with 66% of customers giving it 4-stars and above. On the downside, a few buyers said it is difficult and time-consuming to set up and use, and it's also not cheap.
Silverline 300mm

First, this is – compared to some of these – a very cheap purchase, so if you are expecting professional-quality dovetail joints, this is not the model for you. However, for the hobbyist looking for a cheap, occasional use dovetail jig, it should certainly be of interest. Not as sturdy as the one above, it can handle 300mm width timber. However, it is more limited in the thickness of the wood it can deal with, as the range is only 25mm to 32mm.
It has a full-length clamp for sturdy fixing, features automatic adjustment and cuts both male and female joints, and as we have said, is very cheap in comparison to some others – half the price of that above, in fact. While around 55% of buyers gave it 4-stars and above, more than a quarter listed it as only a single star. Practically all of the latter complained that it was poor quality. It's worth mentioning that many others said it was OK for the price.
Lumberjack DTJ300

This model is another very cheap one, in the same sort of price range as that above, and also offers 300mm width timber capacity. This one is made from tough steel so seems more sturdy than the above, and comes with adjustable thicknesses between 6mm and 32mm, which is far more flexible than the previous model. The full length clamp is there, and it comes with the template for permanent fixture to a workbench.
However, when it comes to customer comments, what had looked like an interesting choice becomes less of one. Less than a third of buyers gave this model 4-stars or more, while more than 50% give it just one or two stars. Comments include 'total rubbish' and various about missing parts, impossibility to use with 12mm wood, and that there are issues with setting it up. In fairness, there are a few that say they got great results straight away.
Axcaliber Dovetail Jig

At this point it's worth us mentioning that, colour apart, all of those we have reviewed – including this one – look pretty much exactly the same. They all have the same mounting design and jig handles, and all are around the same size. This one, though, can only handle up to 275mm in width, which puts it at a disadvantage straight away. It does have the full 6mm to 32mm thickness range, however, so that's not a bad thing at all.
This one comes with different sizes of dovetails – either ½" or ¼" – so is suitable for more than just small scale craft work, and also is robustly made from strong steel. It's priced in between the cheap pair above and the more expensive model at the top, and looks decent enough. Customer reviews cannot really be cited here as there is – as yet – just one, although it does get five stars and is great to use once set up difficulty has been overcome.
Woodstock 12-inch

Another of the standard design models, this one is a full 300mm width version, and it does have an air of greater quality about it than quite a few of the others here. This model is billed as 'easy to set up' – we suspect, however, that there will be customer complaints to the opposite, as there have been with all of these models. It's designed to provide 1/2inch dovetails, which are the standard, and cannot be adjusted for other sizes.
This one comes with the full length clamp for sturdy attachment, and is steel construction for durability. Thickness range is 25mm to 32mm, which is not the greatest. Customers are varied in their response to this one – which we should say is pretty much the same for all of them. Comments range from 'serious jig' and 'great once clamping issue sorted' to 'do not buy' and 'arrived broken'. It's not a cheap model, so this is of some concern.
Lumberjack DJT600

This is the first on the list that breaks the mold, in that rather than being 300mm wide, it can handle timber up to 600mm in width. Essentially, this is a bigger version of the Lumberjack 300 we picked out for you a little earlier, and to be frank, that one did not come with great reviews. It is steel and strong, comes with all the clamps an templates, and is designed for 1/2inch dovetails, so all good so far.
It's also – given it is double-sized – not a bad price, so we really need to look at customer reviews and get an idea of the reality. However, with only 3 customers having reviewed the item so far this is not going to give a true picture – although one is a 4-star review that gives it a thumbs up, and one says the instructions are not for this item – so we recommend you refer back to the other item from this maker for an idea.
Daptez Heavy Duty 300mm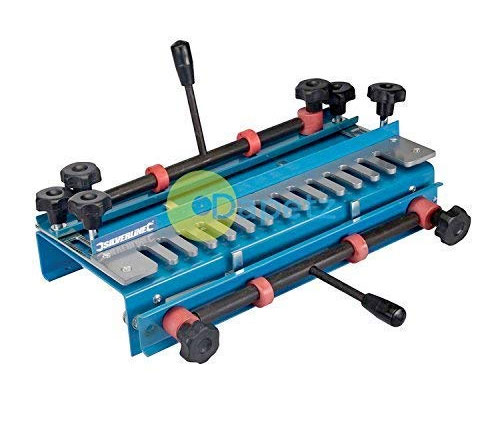 We expected before now to come across a model that was clearly the same as an earlier one but re-branded. However, all the above appear to have certain differences! This model is, though, identical to the Silverline model we wrote about earlier, except in colour. Not as sturdy as the one above, it can handle 300mm width timber. However, it is more limited in the thickness of the wood it can deal with, as the range is only 25mm to 32mm.
It has a full-length clamp for sturdy fixing, features automatic adjustment and cuts both male and female joints at the same time. We do not have any customer reviews for this one, but if you want to check out those for the equivalent as mentioned, they are along the lines of 'poor quality'. It is, however, very cheap in comparison to others that don't fare much better in reviews, so don't write it off if you're looking for a budget occasional use jig.
Porter-Cable 4212

This model ramps things up a bit. It's from Porter-Cable, a known brand, and it is a precision CNC machined dovetail jig that can also handle box-joints and many more joints, of different sizes. This is the first one that is noticeably different to the rest, in both quality, ability and price. It is very well-made in steel, is carefully designed and put together, and comes with carbide tips and a couple of templates so you can get to work quickly. It also has 260 customer reviews, which is far in excess of any other model on the list.
This is a professional level machine and it shows in the price – it is three times the cost of many of those on our list – yet it may well be worth it if you want precision cut dovetail joints. It can handle 300mm wide and thickness ranges from 8mm to 32mm, which is the full range. The majority of reviews for this model give it 3-stars and over, and the overall is 4-stars – that really stands out in this company.
CMT300 Universal

This model is another of the standard, 300mm versions, and is likely one of those above with a different brand name – or one very similar indeed. Thickness of board is between 12 and 25mm – that's not the greatest but should be good for hobby work, which is what we reckon it's intended for – and like all of these it comes with the full-length clamp for steady fixing. It's steel-made and sturdy, and cuts half inch dovetail joints.
Again, this one claims to be easy to set up – with a sole customer review to its name we can't make any conclusions, but that one review alludes it not being easy to set up at all, although gives it 3-stars overall – and it looks very similar to all the rest. We do have one problem with it, and that's the price. This one is not much cheaper to buy than the one above, which is a long way ahead in terms of quality and performance.
Xact Dovetail Jig

Our descriptions are in no particular order, yet it would appear that we have left the best for last! This model from Xact is a very high-quality model that is up there with the Porter-Cable device, in terms of quality, performance and price. It is a notably different design to 8 of these, is made from very strong materials, accepts board up to 30mm thick and is a 300mm width model. It has a clamping system that claims to be more powerful than others too.
This one uses precision CNC machined templates for added accuracy, can be adjusted for different types of dovetail joints, and is clearly a professional-standard machine in every way. It is expensive – if you compare it to the cheaper models in price alone – and it has only two customer reviews. Both, however, are 5-star and state, quite simply, that it is a 'quality jig'. We reckon this one sets the standard.
That's our list of 10 dovetail jigs for you, but which is the one? Before we try and give you a verdict, let's have a recap of what you need to look for when choosing a dovetail jig.
Important Features to Look For
A dovetail jig, as we know, is a precision instrument that makes your finished woodworking project fit together with precise dovetail jointing where it is required. At least, that is the intended use of these machines. Not all of them, it would seem, guarantee this, so let's have a look at what you need to consider when buying one of these.
Quality – there is no doubt that the quality of these devices varies throughout this list. Some have customer reports that they are just plain poor quality, others do a good job but are far from perfect, and a couple are definitely a cut above the rest. Check customer reviews as with these items they have been especially revealing.
Width – 8 out of 10 of the above can handle 300mm – 1ft – width board, one can take double that, and the other only 275mm. For craft and hobby work, 300mm should be more than adequate.
Thickness – the thickness of board that can be used with these varies a great deal throughout. Some have a range of 8mm to 32mm, other only the upper end. It's up to you to decide what you need.
Ease of Use – this is a tricky one. A great many of those listed above were subject to customer complaints that they are difficult to set up. This is not solely applicable to the lower quality, cheaper models, so beware.
Cost – we don't often cite cost in this section, but here it has a place. The cheapest of these is around £45, the most expensive is four times that price. We will say the two most expensive ones are the best models, but of the rest, there are some that are no better than the £45 model at double that price – again, check carefully before you buy.
Now that we have that, which one is for you? Let's see if we can wrap this up!
Our Choice
We were surprised at the many machines that met with very variable customer reviews: for some, there were people saying how brilliant they found the device, with others saying the same device is utterly useless! Across the board, only two out the 10 scored particularly well with customers.
It's a very difficult choice to pick one out; the clear leader here – the very best model on this list is the final one, the Xact Dovetail Jig. Make no mistake this is a top quality, precision device that is made to the highest standards, but you will have to pay not far short of £200 for it. If you want constant, perfect dovetails this one – and the similarly priced and almost as good Porter-Cable 4212 – are the only ones that can promise that.
Of the others, if you're looking for a hobby dovetail jig and are not concerned about the very best in quality joints, perhaps one for occasional use, the Lumberjack DTJ300 would seem to be, from customer comments, equally as good as others on this list at twice its price, so go for that and save some money.
We hope this article has helped you find the dovetail jig that makes your woodworking more enjoyable, so have another run through, and get a new piece of kit you will enjoy using!