iPad Bed Stands
The iPad has become one of the most-used items for accessing media, and there are few devices that match it for sheer convenience and versatility. You can deal with your work emails, catch up with news, talk to friends, shop online, play games and watch TV or movies, and more, all while on the move. Or, if you're not on the move and use your iPad lying in bed, you need to read this review, because there are some very innovative iPad bed stands on the market.
Before we get into the good stuff, consider this: the first iPad hit the market in 2010. That means this quite amazing device – which arguably changed the way we communicate when on the move (and in bed!) is not even 10 years old. It seems a lot longer than that, doesn't it? This is an example pf how seamlessly we let these digital devices into our lives, and how good a job Apple has done at developing the range.
Of course, that original iPad was one size; nowadays, you have a choice of different sizes, different levels of connectivity, a full range of memory sizes, and so on. Yet, whatever iPad you have, you'll want to know more about these stands we are going to tell you about. Usually, we would give you a 'how it works' section here, but today, we're going straight in, as while the basics are the same – it's a stand on which you place your iPad – the way the do things is sometimes unique.
So, let's talk about the top 10 iPad in bed reading stands on the market now.
The Top 10
Mebber Tablet Stand for Bed
The first choice for our list of 10 is a rather clever take on the tablet stand – note we are not being exclusive here: this one can be used for tablets other than iPads, although it is to iPad users we are aiming these reviews. It's clever in that it designed to be positioned over your legs when you are watching the TV, for example, on the tablet, or having a conversation with someone. It has flexible legs that can be bent into shape for stability – a neat touch that also allows for adjustable height.
The part that holds the tablet in place is an adjustable silicone band: this adjusts between 5cm and 20cm, so can hold everything from a smartphone to the largest tablet. It's light, neat and usable, and is easy to adjust. You can also adjust the angle at which you view the screen for your convenience. While there are not a lot of customer reviews, its notable that the lowest is a four-star review. The only comment that distracts from it is its overall size, which is quite large, but otherwise this might be an ideal iPad stand for watching TV in bed.
AboveTEK iPad Stand
This model is altogether more substantial than the one above, but in fact that may be its drawback. Let's start with the positives: it's a nicely-made iPad stand, of that there is no doubt, and can be rotated 360-degrees around the base. The iPad – when in the stand – can also be tilted side to side and moved from landscape to portrait, thanks to clever joints. It holds the iPad steady, and makes it very easy to use.
Now for the negatives: if you want to use this one when lying in bed, you're going to need a solid flat surface or you'll find it very ungainly. We would say this one is designed for use on a shop counter, in a restaurant or hotel – or other commercial outlets where the customer and service provider both need to see the screen – for payments or booking. You could conceivably rest it on your knees or your bed, but that's not what it's designed for. If you want a desktop stand, it would be great, but be aware it's not cheap.
Aussel Portable Universal Bed Frame
When we take a look at devices such as these, which are ostensibly simple and practical, it often surprises us that some are distinctly over-engineered for the purpose. This is, we think, one of those items, but that's not necessarily a bad thing. It's very well-made, and designed to be used on just about any surface. It has extendable arms and is adjustable for most sizes of iPad and other tablets, and is easy to use.
You have full rotation, angle adjustment and the height can be changed, plus it is made from strong and light aluminium and scores highly with users. We just can't help thinking it's a bit too clever for its own good! Having said that, while the majority of customer testimonies are of the 5-star variety, there are few that complain about the way the tablet fits, but at the price, we're happy to say this is one to take another look at.
Spessn Floor Tablet Stand
It's refreshing to see a number of different takes on these devices, especially given their specific purpose. This one is a floor-standing device, it is fully adjustable, and it is very neat and clever. A vert sturdy base means it is level at all times, it is adjustable for height between 27.5 and 55 inches, and it's easy to adjust and use. But, it's big. The makes say it is easy to disassemble for moving around, but buyers might want something more portable.
The other things is, being tall, floor standing, and adjustable in many places, it also uses more material than a basic bed-frame model, and hence it is more expensive – and by quite a degree compared to some of these. While customer reviews are generally favourable, some state that they have to wedge the stand under furniture to keep it upright when using large tablets, so that might be something to think about.
EasyAcc 360 Gooseneck
This model is another floor-standing design, and it's one that tackles the stability problem mentioned above in a clever if rather unorthodox manner. What you get is a stand attached to a tall 'neck' section that has some clever properties as we shall see, and a base that includes a clamp so you can secure it to something heavier. This one is fully adjustable for everything from iPhone to larger tablets – although some customer reports say it is not suitable for some devices – so that's all good so far.
Now, the clever bit about the neck. It is made from 'flexible magnalium alloy'. This is a clever alloy that, in this form, can be bent into shape to a certain degree. It's covered with a silicon skin for protection and ease of use. The idea is you bend the neck to where you want it to be, and if you need added stability, you can make it into an 's' shape or other that aids balance. It's clever, although a bit ugly, and yet surprisingly cheap.
iPevo PadPillow
Yet another take on the problem of how best to use an iPad in bed is this clever, simple and usable idea. It takes the form of a small, soft pillow – it has a washable cover so you can keep it nice and clean – and also includes a fold-out section for a wireless keyboard, which is a nice touch. There is only one angle of slope, however, so that's a limitation.
This is designed for placing on your bed or on your lap, and using for perhaps watching TV and communicating. There are no swivel adjustments and it is not particularly versatile. It is, however, portable and perhaps useful when travelling in a car. Filled with foam that is suitable solid yet light in weight, this one meets with many favourable customer comments – and just a few that are not so – yet its limitations lead us to think that, at the price, there are perhaps more sensible and versatile options.
Flotsam iProp Bed Stand
So far we've seen stands that are floor-mounted, that are made from soft cushion, one that has a flexible metal base, and other different interpretations on the theme. This one, from Flotsam, takes the form of a flexible bean-bag attached to a circular face with a lip, into which you slot your iPad, tablet or phone. The idea is the bean bag will conform to any shape of surface it is placed on, so does it work?
It does for some, it doesn't for others, as customers explain. Although it scores very highly overall – with 4.5 stars from more than 150 customers – there are complaints that it is smaller than expected, that the zip is poor quality and that it is sometimes difficult to get it to settle correctly. However, others praise its convenience, light weight and ease of use. There is no real angle variation, and it's not cheap, but it might be what you are looking for if you want a portable, occasional stand, but it's not an iPad stand for reading in bed as we would think of it.
Tablift Tablet Stand
This one is another of what we have labelled the 'spider' type of stand, with the flexible legs. It is perhaps the simplest type, and might just be the most convenient for the purpose of this review, which is for use in bed. It's clever in that it designed to be positioned over your legs when you are watching the TV, for example, on the tablet, or having a conversation with someone. It has flexible legs that can be bent into shape for stability – a neat touch that also allows for adjustable height.
The part that holds the tablet in place is adjustable and can handle anything up 10mm in depth, so can hold everything from a smartphone to most tablets. It's light, neat and usable, and is easy to adjust. You can also adjust the angle at which you view the screen for your convenience. Perhaps the only downside is that compared to others of similar (or as we think, identical) design, it is expensive at more than £30.
Book Couch Tablet Holder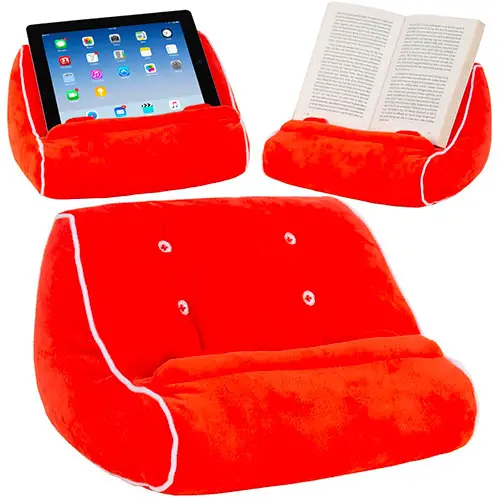 This model positions itself as 'the original book couch' and we are more than happy to believe them, for it is exactly that. It's a cushioned model, shaped like a couch, designed originally for placing books on to read with your hands free, and now marketed for use with iPads and other tablets. It's cute – perhaps more of a novelty than some of these – and is made from soft padded material, plus you can buy it in red or blue.
What else? It's fully washable, so you can keep it nice and clean, and would make a fun, welcome gift, and it is portable, light and usable. But, there are no adjustments, so you're stuck to one angle – pretty much upright – and that's about it. Would we buy it? Not for regular use as a bed stand for an iPod as there are better choices, and it's quite pricey for what it is.
iDeer Life Tablet Holder
The final model on our list is this one, from iDeer Life, which is another one designed for table-top use. This gives it limited appeal among those on our list, although we're not saying it's not a good iPad stand – just not a great one for use on the bed! If you are using this on a table then it has a nice solid base – a heavy one with suitable padding so it won't damage your desk, table or wherever you are using it – and also a fully adjustable neck and holder.
This design features 360-degree rotation and full alternation between portrait and landscape, is nicely made from quality materials, and is capable of holding between 4 and 11" devices, and it is praised by users for its quality and versatility. Is it the best one for a bed? If it's on a table, it might be, but we reckon there are better genuine bed tablet holders.
So, that's our list of 10 tablet bed stands. Before we go on to give you our verdict of the best stand for using an iPad in bed, here's a quick buyers guide featuring all you need to look for when choosing one of these.
Buyer's Guide – What to Look For
When choosing an adjustable iPad stand for bed you want one that is versatile, affordable, of a decent quality and that does the job it is intended for. Let's have a quick run through the features to look for:
Bed or floor – some of these you place on the bed, others you stand on the floor, and some on a bedside table. The floor and table versions tend to be very versatile and hugely adjustable, yet they are very large, so that's a decision you need to make.
Adjustable – see above: some of the models featured can be swivelled through 360 degrees, tilted throughout, and also switched between portrait and landscape views. Others are static, with one angle only and no other adjustments.
Price – the cost difference between the cheapest and more expensive of these comes to around £15, which is quite a lot when you consider what you are buying. If you decide on one style, check  the m out for similar models at better prices.
Size – by this we mean the size of the holder itself: will it handle your type of iPad or tablet, and can you use it for your phone? It pays to check carefully – especially customers comments – before you make a decision on this point.
That's the major points to think about, and you might want to consider what it looks like and how easy it is to store. So, is there an iPad bed stand that we think does the job? Let's see if we can wrap this up!
Our Choice
In summing up we considered the above points, and dismissed those that are not genuine iPad bed stands. So, our choice is one that is adjustable, gives you a level platform for holding your iPad or tablet – or iPhone – and is surprisingly affordable: the Mebber Tablet Stand for Bed. It may not be the most sophisticated, and there are others with cleverer features, but its simplicity, ease of use and versatility make it the right one for us – and it's also a great price.
We hope we've helped you find the right iPad bed stand for your usage, so enjoy evening watching movies in comfort from now on!