In a rush? Here's our number 1 choice
Peter Child Pyrography Machine
We've chosen of all the kits we looked at, the Peter Child Pyrography Machine, due to it's professional-grade components and functionality. Although it's pricier, you get more for the higher price and a tool that will last longer than some of the cheaper models out there. Even if you are still a beginner, this is a great investment.
Have you ever come across an intricately engraved or carved piece of wood, perhaps with a decorative design on it? Have you ever wondered if you would be able to do something similar? Maybe you have but thought that it would require specialist equipment and tools. While that may have been the case in the past, a lot has changed nowadays. In the following guide we are going to highlight to you, the best pyrography kits available in the UK.
What is pyrography? We realise unless you did it as part of your school's technical skills curriculum, you may not know what pyrography is. It is the crafting skill or art of using controlled and carefully applied burn marks to wood or leather using a heated metallic point, often referred to as a pen. Other names for it include the very apt wood burning and pokerwork. The direct translation of Pyrography is Writing With Fire, which is also incredibly apt.
In the following guide, the team here at Internet Eyes have looked at the selection available and collated the best Pyrography kits, including many pyrography starter kits. Along with the products themselves, we have also, for the uninitiated or those still relatively new to this skill and equipment, a buyer's guide offering some considerations you need to make when choosing the right kit for you needs and abilities.
Without further ado, let's dig in to our top 10 pyrography pen kits.
Best Pyrography Kit UK 2019
Fuyit LCD Wood-Burning Kit 42-Pieces
First in our guide to the best pyrography beginner kits is this from a company called Fuyit. This kit is a very comprehensive product with just about everything you could ever need to get started in this engrossing and fascinating art technique. It comes with an LCD pyrography pen, soldering iron tips, wood burning/curving tips, pen's head converter, solder sucker, solder, soldering holder, curved tweezer, stencils, carry case for everything and the user's manual.
This kit has been designed to work on not just wood, but gourd, leather and similar kinds of materials. It benefits from having the adjustable temperature setting covering from 180-degrees through to 480-degrees Celsius. This makes it ideal for users of all experience levels. Thanks to its high-end ceramic heating core, it can reach the desired temperature in just 36-seconds or thereabouts.
The pyrography pen in the kit has been ergonomically to fit comfortably into most hands. With 7 ventilation holes, it will never dramatically overheat or feel uncomfortable even if you've been using it for several hours. As the pen also incorporates an LCD screen, the temperature is always displayed.
Pros
Great number of accessories for the price
Easy to use
Robust and well-made design
Great for users of all levels of experience
Cons
No instructions about appropriate temperatures and finer details of using it
Despite the well-thought-out design, the handle still tends to overheat a little
Toyfun 71-piece Wood Burning Kit
Next in our guide is this whopping sized pyrography beginner's kit from Toyfun. Like the above, this boasts a huge number of different tools and accessories in addition to the pyrography pen. As well as the pyrography pen, you also get various attachments that will enable you to work on different kinds of designs on different materials. As a nice addition, and again like the above product, this kit offers soldering and wood burning tools. Along with the temperature control wood burning pen, soldering tips, woodburning tips, stencils, a stand to keep it all safe when in use or between uses.
The kit is completed by a handy storage bag that means you can take everywhere you go. The pen has been designed to work with adjustable temperatures ranging from 200 all the way through to 450-degrees Celsius. The pen is lightweight and has an ergonomic design for a more comfortable wood burning and soldering experience.
Interestingly if you are interested in carrying out a variety of different crafting techniques, you can use this product for everything from fabric embossing, hot stamping and paper crafting to soldering, wood burning, stencil cutting and image transferring.
Pros
Huge kit with lots of accessories and tools
Great for all levels of pyrography experience
Features nice carry case
Great value for money
Cons
No instructions
Build quality not as consistently good from one kit to the next
Ele Eloption 220V Multifunctional Pyrography Machine
Although slightly higher in price than the previous two models, this is another worthy pyrography kit you should consider investing in. It can be used to work on wood, leather and as a nice addition bamboo strip. Another high-quality and comprehensive kit, this includes all the components you need. That includes the actual pyrography machine and pen, along with a mini gourd and 20 wood burning tips made from a nickel-chromium alloy. It has all been built to a very high standard and is robust with good insulation and a lightweight feel.
To provide a more effective and efficient wood burning or leather burning unit. It has a screw-lock device to provide a securer connection while you are using it and the Bakelite heat resistant material used helps to prevent heat being conducted through the pen from its tip to the handle, making it extremely safe to use.
Pros
Pen is equipped with heat resistant material to protect users
Full set, including 20 accessories
User-friendly, if lacking instructions
High quality, protects user against overheating and is secure
Cons
Instructions could be written out better
Could come with more accessories for the price tag
Umitive 37-Pieces Wood Burning Pyrography Pen Kit   
The next pyrography wood burning pen kit in our guide is this one from the company called Umitive. This kit, like many others has been designed for use with not just wood, but leather too. With the kit you get all you need to start, particularly if you are a beginner to this form of decorative crafting. It includes the pyrography pen with a total of 27 different-shaped heads, 10 soldering and wood burning tips, 10 wood carving tips, a hot knife chuck with blade and 5 wood embossing tips. It also comes with a letters stencil, basic symbols and numbers stencil, iron stand and a practical storage bag.
It features the same kind of ceramic inner-heating element core found in other products and is therefore able to reach the desired temperature you require it set to within 45-seconds. The adjustable temperature range this works within is like others, from 200 to 450-degrees Celsius.
Pros
Perfect for wooding burning and soldering beginners
Adjustable temperature control
Full kit of accessories
Heats up quickly
Cons
Not the easiest to use, if a beginner, according to some customers
May need more heat if you want a quicker working kit
Holife Wood Burning Kit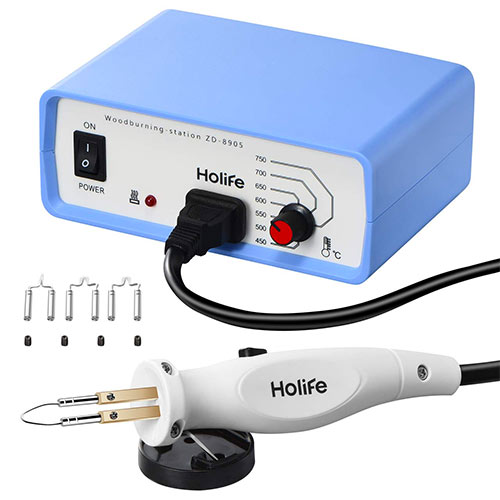 Next we have the highly renowned electronics and electrical goods company Holife. This is another great affordable kit. One of the key features that makes this kit stand out is the working temperature range it offers. Higher than many in our guide, it has an adjustable temperature of between 400 and 750-degrees Celsius. This can be easily adjusted using the appropriate knob on the control unit.
Like others therefore, it has been designed to work various materials, not just wood, including gourd and leather. The safety of you, the end user and one benefitting from its capabilities and functions, has been considered with the design. It comes with an integrated voltage converter that transforms the high voltages the pyrography kit uses into low voltages, so you are safe. A further safety feature is the starter switch on the pen. This means it won't accidentally power up and heat up, just because its connected to the mains supply, as it will only start to work once you have pressed the switch.
You can use the kit for a variety of different types of crafting and features 4 different shaped wire tips to create the lines and designs you want.
Pros
Lots of useful safety features to protect the end user
Good value for money for the price it retails at
Easy to use
Features 4 different-shaped wire tips for versatile uses
Cons
May be worth buying new tips, as the ones with the kit heat up too much
Less accessories and attachments than other similarly priced products
Peter Child Pyrography Machine
The slightly pricier model from Peter Child is our next pyrography kit we want to highlight to you readers. This model has been worked on and updated over a period 40 years. It is the go-to choice for many pyrographers of different experience levels, whether they are experts, beginners or anything in between.
We should point out, as the manufacturer and seller has pointed out that this is quite a heavy and bulky unit. Having said that, the actual pyrography pen itself is very well-balanced, light and slim making it one of the easiest and most comfortable of its kind to use.
Pros
Comfortable to hold pyrography pen
Good value for money kit
Solid and robust construction
Versatile
Cons
Can be tricky to change the points on
Temperature gauge could be better
Mingfuxin 60W Wood Burning Multifunction Pyrography Machine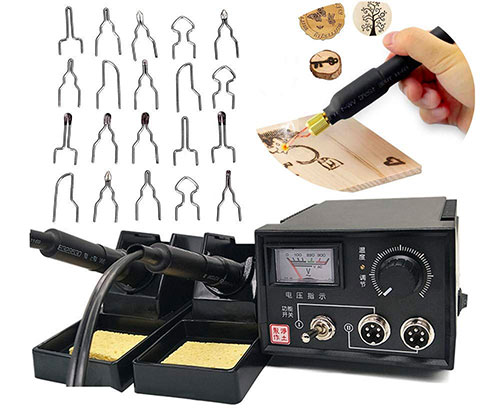 Now we have another mid-priced pyrography kit that features a 60W wood burner unit that has an incredibly high heat response level to offer smooth and quick drawing abilities. The wood burning detailer or pen has small handles that have been developed and included to make it much easier to hold without causing fatigue or discomfort with prolonged periods of use. The whole kit is durable and safe, with high-quality and tough materials used throughout. Like others in our guide it features a layer of Bakelite material on the pen that stops the heat being conducted from the point through to the handle.
As one of the main things that makes these pyrography kits stand out is the extras, it's worth pointing out that this kit comes with 20 different sized and shaped wire tips. This means you can use it on a wide variety of different materials such as bamboo, wood, leather and eggs, leaves, bark, wheat straws and gourd and for different crafting techniques from everything to calligraphy to silking and much more.
Pros
Easy to use kit
Comfortable to use pyrography/soldering pen
Does its job well
Versatile selection of wire tips
Cons
instructions and product information are all in Chinese
Components could be a bit better quality
Antex Fire Writer Pyrography Tool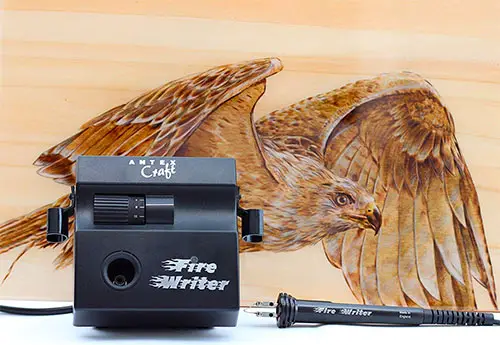 The next pyrography kit we must speak about comes from the company Antex. This one of many professional-grade heated craft tools in their range. It is very easy to use and has an adjustable temperature setting that reaches up to the maximum level of 650-degrees Celsius. The wood burning pen that comes with this kit is very slimline and lightweight, clearly showing comfort and ease were at the forefront of their minds when designing it. Versatility and adjustability have been made easy with this machine as you can change the tips easily.
Then there's the tips themselves. You have the choice with this device of using the pre-made tips that you can buy online, or by making your own thanks to the 5 nick chrome wires with different gauges.
Pros
High quality piece of pyrography kit
Excellent value for money
Professionals have commented how good it is to use
Great control over temperature and intricate artwork
Cons
Doesn't come with enough accessories for the price
Replacement tips can be expensive
Shanna Pyrography Machine Kit
Our second to last pyrography kit if from Shanna and is another one that has been made to meet professional standards for quality and functionality. With the kit you get the multifunctional pyrography machine, you also get 2 rather than just 1 pen, 20 copper-heating tips, a mini screwdriver, tiger pen holder and sponge for wiping the pen clean. This is another machine that offers a maximum working temperature of 600-degrees Celsius.
Pros
Very reasonably priced
Works to maximum adjustable temperature of 600-degrees
2 heating pens rather than just one
Pack comes with everything you need
Cons
Other similar priced kits come with more accessories
According to one reviewer there is only one setting
Hi-Spec 2-In-1 Adjustable Temperature Soldering and Pyrography Wood Burning Set
Last in our guide is the 2-in-1 tool for all hobby and crafting enthusiasts, which comes with everything you need to carry out various projects and activities, not just pyrography. So, if you are looking to do some work with wood burning but might like to try your hand at other skilled things like metalwork, Jewellery, repairs around the home and work on electrics, this is an ideal kit for you.
You get the benefit of 4 changeable, different tips for the pen. Furthermore, like many of the other pyrography kits we've featured in our guide, you can create intricate and detailed designs on a variety of materials, including bark, leather, bone, plastic and so manty others. It has two different temperature settings. This means you have at the very least some control over the type of work you can carry out using the pyrography kit. Whereas the lower temperatures can be used for soldering precisely, whereas the higher temperatures can used for heavier duty tasks using harder and tougher materials such as wood and even bone.
A great selling point for this kit is the fact it comes with a robust and long-lasting plastic tool organiser that includes handy lid compartments and a removable parts tray. You also get additional items and parts like desoldering pump and wick/braid that helps with cleaning up after you've worked on soldering.
Pros
Can be used for both soldering and wood burning/pyrography
Two adjustable heat settings
Comes with tough toolbox to keep everything in place
Perfect for use on various materials
Cons
Best suited to the occasional pyrographer/soldering hobbyist
Components don't last if many customers would like
Best Pyrography Kit UK – Buyer's Guide
We understand that for many of you reading this, as we've noted, this might be the first time you are looking into the world of pyrography and the various money-saving and practical kits that are available. As when you are buying anything new, you may have trepidation about whether you are going to get a deal or not. That's where something like our buyer's guide comes into play.
In this section we will look at some of the most important considerations you need to make to help you pick out the best kit for your needs.
Is it Going to be Comfortable?
How comfortable the pyrography pen or tool while holding it to use it is crucial to your decision about which is best. Particularly if you have a task you think might take some time to complete. Look for ergonomically-design handles and those pyrography kits with components that have heat-resistant handles to stop you experiencing fatigue and possible burns or other complications as a result of exposure to excessive heat.
What Does It Cost?
The cost of something should always be considered, even if, as we usually recommend, you don't place the focus of your attention on it. There is such a wide variety available with regards to pyrography kits that you will be able to find one for £20-odd, whereas others are over the £100 mark. Where are you in your pyrography adventure? Close to the beginning or not even started? Stick to one of the more affordable kits, without opting for the cheapest. Because cheaper models are often cheaper for a reason.
However, if you have more experience, you may have greater use for the greater number of features available. You also need to factor in the kind of return on your investment you are going to get. Less expensive, budget-priced models tend to only last a shorter length of time.
Features that are Important
As well as taking into consideration the points mentioned above, there are some features you need to think about when buying pyrography kits that are crucial.
This includes:
Adjustable/Variable Temperature Levels – Although there are many wood burners/pyrography kits that only offer one temperature setting, others offer adjustability with variable temperature settings. One heat level may be enough to get the job at hand completed to a high standard. However, it can produce finer results if you have at your disposal the option to switch and change the temperature, especially for more intricate work.
Adjustable and Changeable Tips – You ideally will want to invest in a pyrography kit and pen that offers a great degree of versatility. To get this, you need to have one that you can swap and change the tips to achieve different lines and burns to really bring your designs to life.
Fast Heating – the last thing you want to do when you have those creative juices flowing and are ready to do some pyrography, is to have to wait a seemingly long time for the thing to heat up enough. That's why you should instead look for a model that offers faster warm-up times.
Conclusion
Pyrography is a fascinating and eye-catching use of raw materials such as wood and leather. You can use it to create interesting designs and piece of artwork for around your house or for thoughtful gifts from the heart for the people that matter most to you. In the guide above, we've looked at some of the best pyrography kits available and have tried to provide you with a choice of both the less expensive and affordable models and more expensive kits.