Have you ever spent hours washing your car, paying attention to every detail, aiming for perfection? Have some of those quests ended with traces on a car, damaged paint, or just smudged dirt all over? If so, you should rethink what kind of washing mitts you use – the right one can mean a world of difference and cut your washing hours. Less time spent on washing means more free time, but that's not all that you should aim for. If you get a quality mitten that's washed in the washing machine, for example, you can have it ready and dry for new cleaning session in a no time and with minimal effort.
When going to the store you can easily be overwhelmed with the numerous choices that are offered – but in the end, they all look fuzzy and feel similar under the hand, so what's the difference? Finding out how they differ from one another is a great beginning towards making a well-educated decision that's going to pay off. We have reviewed some of the best mitts on the market in the UK for you. If the reviews leave you curious, we have also prepared the Buyers' guide to help you decide what features you should prioritize when choosing the perfect mitts.

1)Kent Car Care Microfibre Noodle Wash Mitt


Those Mitts usually come in blue color. Their surface consists of soft noodles which easily collect the dust and imbibe water. They are soft and gentle so using them won't destroy your furniture, table, glass, or whatever material you choose to clean. If you have problems with stains that just won't come off, those mittens can be a good choice – they have a mesh surface that can help you easily remove those stains. There is only one size available and to help prevent the mittens from falling off, they feature an elastic cuff that envelops your wrist. There's also a piece of material that separates the first three and last two fingers so that you could manipulate the mitt easier and get to all nooks and crannies, preventing the hand from moving inside the mitt. The material that they're made from is highly absorbent and mitts themselves are easy to clean – just put them in the washing machine.
The dimensions of mittens are 1.3 x 6.7 x 9.8 cm. You can order one or three in a pack.
2)Meguiar's Luxurious Lambs Wool Car Wash Mit


If you are worried that other mittens might scratch your furniture, this one is sure to preserve its perfect surface. It's made out of wool so it's incredibly soft. It's got a very gentle non-abrasive mesh on the rear for some of the stains that won't come off easily. It's made out of natural wool that comes from lambs – they have even softer wool than sheep. It effectively collects dust and dirt. The wash mitt allows for swirl-free washing by lifting and trapping dirt within its pile. It is important to rinse the wash mitt every time it is dipped back into the washing solution so that any loose grit is freed from the wash mitt. If you are looking for a more durable mitt, though, you should look among the ones that are made out of synthetic fibers such as microfiber. Also, this mitt shouldn't be washed in the washing machine, but rather rinsed out and left to dry naturally.
3) AmazonBasics Deluxe Microfiber Car Wash Mitt (2 Pack)


This 30x20cm mitt offers a great power of absorption. It can hold 7x its weight in liquid. If you are looking for the mitt that can help you rinse the car fastest without leaving any soapy stains, or if you are looking for a mitt to add the finishing touch and dry the surfaces fast – this is an appropriate choice. Also, it won't drip as much and cause your clothes to be soaking wet while you get it from the bucket to the car. It's made out of microfiber material which is used in the variety of products and fields, but it's also used in fitness clothing, for example, because of its durability and absorption powers. The mitts elastic wrist cuff will help it stay attached to your hand and not slip off, causing more mess. It's easily washed in the washing machine and used time after time again. The downside is that it's not waterproof so your hands will get wet while using them.
4) TAGVO Microfiber Car Cleaning Cloths Towels for Car


This mitten has great absorbing power – it can absorb up to 11 times its own weight! Apart from its superpower, it's also formidably soft. Its both sides are covered with plush microfiber material with significantly helps you if you are in a hurry and need to dry a car, window, or a table – it can be used for a variety of surfaces. It also won't scratch or damage the paint. You can keep it in a car or carry it in a bag so you can always have it nearby when you need it. It's a good choice if you are a perfectionist who often wants to remove a spot of dirt that you've just notices while driving since it can also be used for waterless washing. If you need to remove a glaze or wax it'd be my go-to tool. It's quickly washable in the washing machine requiring minimum maintenance or effort.
5) Meguiar's Microfibre Car Wash Mitt


Those mitts are sort of "low-profile" compared to other mitts, so you can freely use it as a mitt or as a towel or cloth. It effectively traps dirt and doesn't leave scratches on the paint. It's a durable mitt that's made out of microfiber material. The manufacturer suggests using a two-bucket method for washing your cars. When using this method you have to prepare two buckets –the first one is used for rinsing the mitts while the other one has the water+soap mix which you soak the mitts in afterward. The cloth has an elastic band that will hold the mitt connected to your hand even when it's soaked with water and gets much heavier. The downside, which doesn't really affect the performance of the mitt, is that it is white and it gets gray even after proper maintenance and care.
If you prefer natural fibers perhaps this lamb wool might be interesting for you. It has a non-scratch property – which is, as we all know, very important when it comes to this type of mitts. But what's new, apart from the ability to trap dirt inside the wool in a similar way that microfiber mitts do it? It absorbs dirt but it actually storages it in the deeper parts of the material while the soap and water are closer to the surface. Another novelty is that this mitt comes with a two-year warranty. If you are aiming for the optimum results, the manufacturers suggested that you wash the car with shampoo after rising it at the beginning. It's important that you wash it from the top to the bottom. To preserve the mitt, leave it hanging to dry every time after the use.
7) Car wash Mitt Cleaning Gloves, Amison 2 Pack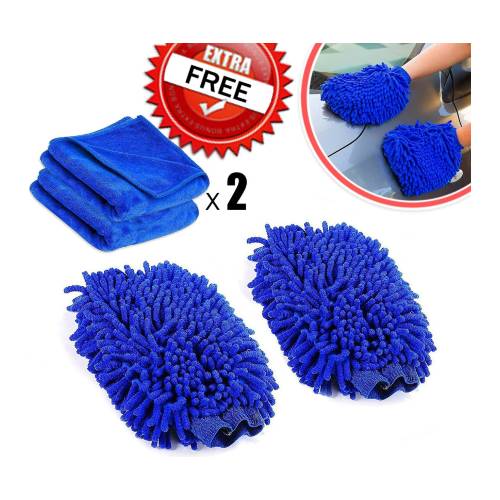 The mitts that come in this package have one great feature: they are able to hold a great quantity of soap and water. This allows you to switch from the bucket to the car fewer times and do more washing. The thing that we love most about these mitts is that your hands will stay dry after using them since the inside is covered with chenille. If you use heavy chemicals or have to wash your car in freezing weather, those mitts can be a very good choice for you. The outside is made out of high-density microfiber that's characterized with good absorption and quick-drying traits. Moreover, it's quite easy to clean. You can also use them when they aren't wet if you need to get a cleaning session in a very limited time frame. This package comes with two mitts included.
8) Detailers United – Lambswool 2-in-1 Mitt and Scrubber


If your usual route consists of muddy terrain or the area that you live in the home to a lot of birds you could benefit from owning this pair of mitts. They have one side that's made for cleaning and one that's made solely for scrubbing. The cleaning side is made out of the lamb wool. Another side is totally covered in micro mesh so you can scrub with greater surface and finish the cleaning faster. Those mitts are easily cleaned – they should just be rinsed out in cold water and left to dry, preferably while hanging and outside. The dimensions of those mitts are 23cm x 15cm which may be small or snug for some people so be careful when purchasing those ones. It's best if you could compare to the ones that you already have so that you could get a better sense of the actual dimensions and get the most appropriate ones.
9) MIKAFEN Car Wash Microfiber Mitts  (Set of 2)


The trait that we especially like about Mikafen, the manufacturer of those mitts, is that they offer a satisfaction guarantee and a two-year warranty. They are ready to support their product and offer a refund or a new mitten if you, for whatever reason, aren't satisfied with the one that you ordered. This speaks about the quality of a product. The dimensions of mitts are 18 x 28cm which offers a big surface for cleaning. They are made out of the microfiber – they are easy to wash in the washing machine and absorb water very well. Another distinct feature is that they have wool fibers on the surface. This is why they are effective at cleaning and not leaving a trace of scratch. The drying loop will help you find a place for them to dry more easily. Elastic band provides security and grip so they wouldn't fall off during the usage. To sum up, this is a very rounded product with much to offer.
10) Detailers United – Microfibre Car Wash Mitt/Detailing Mitt


If you are looking for mitts that are big – you have found them. The dimensions of those mitts are 26 x 20cm, and they are made for easy usage. They are lightweight and have a wrist cuff that keeps mitts safely on your hands. They are easily washed when you rinse them out with cold water and won't leave fibers on your car after the use. They are very popular, and with good reason. People who run detailing businesses have told that they are quality mittens. They absorb a lot f water and give you a chance to clean a big area. If you are looking for a pair that's going to take care of the shine of your car, those are the ones for you. They are made out of the microfiber and feature an elastic band.
Buyers Guide
-Size: Having a mitt that's too small can just be very uncomfortable on the hand. Seams can cause skin irritation since the washing movements are repetitive. This is something you should definitely aim to avoid. If your mitt is too big it may cause it to wrinkle, slip off or just generally be hard to manipulate. Some mitts have inside pieces of cloths that separate the fingers or the first three and last two fingers to allow the user to have greater control over where the cloth will go. This allows you to clean the nooks and crannies more easily and to generally finish your work faster. Always keep in mind that mittens will become a little less wide when you put them on so it'd be best if you already had a pair that you could measure and compare.
-Material:
-Microfiber is under the spotlight these days for pretty much everything – cleaning cloths, broom straps, outdoor equipment, and even for fitness apparel. That's because it possesses many wanted qualities – it's durable, breathable, easily washable therefore very easy to maintain and when you are buying it you know that the product will last for a long, long time. Another well-known feature is its ability to soak a lot of water which is useful when it comes to car washing. It allows you to have more water on the mitt and clean greater surfaces, preventing you from having to soak the mitten up every so often.
-Wool: Wool can be very effective when it comes to cleaning, but the reality is that it needs to be properly maintained – washed, conditioned, and taken care of. It's often less durable than microfiber mitts but it's a little more efficient when it comes to cleaning cracks and spots that are hardly reachable.
-Lint-free: There isn't anything more annoying than having small material parts all over the car while trying to clean it. Microfiber generally tends to prevent this, but it's best if you read the reviews so that you would make sure that mittens are lint-free. If you are cleaning the car in-depth, especially if you are paying a lot of attention to corners and cracks, this may cause the fibers to get pulled out even more.
-Wrist band: When the mitt is dry it's going to stay on easily, but when it soaks up the water it gets a lot heavier and without a wrist band, it can easily slip off and fall to the ground. This has probably happened to you at least once, if not with a mitten, then with a towel. Having to wash the mitt again and possibly change the water and start the process anew can make you lose a lot of time. This is why having a good wrist band is one of the crucial features.
-Hook: The hook may not be a deal-breaker and it won't affect the quality of the performance, but it can be very handy when you have to take care of the durability of the mitten. Being able to hang it on the hook can be helpful when you receive a sudden call and have to take a pause in your washing, or when you finish rinsing the mitt off and not knowing where to put it to dry – you can hang it above the bathtub or in the yard. Small details can be meaningful. If you are someone who has to take calls frequently, for example, this is a feature that you should pay attention to.
-Maintenance: Washing the mitts in the machine is the easiest, fastest, and most thorough way to go. This is why it's good to opt for the mittens that can be cleaned in this way. If this isn't a deal-breaker to you, then you have a wide variety of mitts and materials available to choose from.
-Price: The mitts definitely don't come to mind when you are thinking about expensive investments. The truth is that they usually aren't expensive and that even failing to get the right one won't cost you a lot. What will cost you is having to fix the paint if the mitt damages it. Generally, there are a lot of affordable options that you can explore. And while there are also expensive ones, your best bet is to depend on the reviews. If others had a bad experience it's a good indicator that some products just aren't good.
Frequently asked questions
-Do microfiber towels/mitts scratch cars?
If towels or mitts are made out of quality materials that shouldn't be the case. Some of those items are labeled as "scratch-free" so if you're worried about it, look for this feature.
-How do you clean microfiber mitts?
Whether you have microfiber mitts or towels, all of them can be cleaned in your washer. The majority of microfiber cloths should be washed at low temperatures and you should avoid fabric softener and bleach.
Conclusion
A well-maintained car will last longer which is why the proper maintenance is of the utmost importance. Also, having to fix the car paint can be a great cost – this is one of the most important reasons why you should inform yourself about the mitt traits and characteristics. In conclusion, having a pair of mitts can contribute to your quality of life much more than sponges can. They induce less stress since they have the wrist cuff which places them securely around your hand which means that they won't fall on the ground and require additional washing. Also, they cover more surface since they can absorb and hold a lot of liquid and soap. They can be used for dry and wet cleaning, and can also serve as cleaning items for other surfaces like windows or furniture. Having a multi-tool available at your home can be very useful, even if only to occasionally clean the spilled liquid. It's made out of durable materials so it's there to stay. It's also easier for the hands since some of them are waterproof and your hands won't get wet or damaged by the frequent chemical exposure. Personally, my favorite was TAGVO Microfiber Car Cleaning Cloths Towels for Car because it has a great power of absorption. I love it since it makes the final touches of car cleaning much quicker and easier.